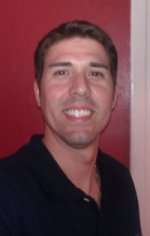 The Launch Pad is pleased to announce that John Salg has joined our team as our new Client Solutions Liaison!
Superpower:  Education Osmosis- The ability to touch a book and obtain all of its knowledge.  In this business you have to study continuously to keep up, and It would be nice to be able to breeze through 1000+ page books!
Favorite Meal: Pot Roast, Japanese Steakhouse's are a close second
Favorite Movie:  (Kid) Weird Science (Adult) Tropic Thunder
Personal Motto: "When you're done giving your all, give it your everything, You've Got What It Takes!"
My impression of The Launch Pad so far is very favorable.  All employees are very nice and approachable, my teammates are receptive to the questions I ask (all day) and working with Ilene has been a pleasure.  The company has goals of growing, and we are adding team members to prepare for the anticipated growth.  I feel as though I can help the team in many departments given my corporate environment experience and my increasing technical skills.