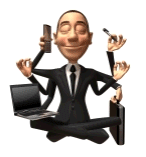 Understanding the nuts and bolts of your IT investment and knowing how your staff uses it should be a priority. In order to keep your pulse on your IT investment and make good technology choices you must communicate with your employees. Ask the staff members using the systems how well the technology is working. Find out where the shortcomings occur and move swiftly to make changes. Enlist the help of your IT staff to pinpoint areas that could be improved with additional technology funds versus areas where spending can be cut back. Form an alliance with a trusted IT resource: a technology professional who understands your business and who can help you evaluate business IT requirements – both current and future.
Get your TechZen on for the New Year with our latest kit "The 2011 ZenTech Executive Management Kit." Your kit will include:
? Our latest webinar "Zen & the Art of Technology Management for The New Year" webinar
? Our latest  whitepaper, "Back in Control, an Executive's Guide to Managing Business-Critical Technology"
? Our Easy-to-GreenIT webinar "Simple Green Technology Strategies for Small Business"
? Free ZenTechnology Audit to evaluate if your IT solutions are effectively supporting your business needs.
If you have any questions please feel free to contact Megan Meisner, mmeisner@launchpadonline.com or 813-920-0788 x210.