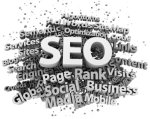 There are all sorts of tried-and-true SEO tactics that can be used to ensure your site is successfully crawled, indexed, and positioned in the major search engines. Though SEO tactics evolve with the technologies used to render Web sites, certain fundamentals remain constant.  In this six-part blog series, The Launch Pad will discuss SEO best practices for achieving optimal visibility for your website.
 
While there are many different options out there to drive more traffic to your website, the first and most important thing you should do is to make sure that your website is built with the fundamental components for success. The following is our list of the fundamentals that you should be most concerned with:
1.) Relevant Content
2.) Website Copywriting
3.) Effective Keywords
4.) Good Page Titles & Meta Tags
5.) A Site Map
6.) Clear "conversion" Path/Instructions
Part 1: Relevant content
Relevant content is by far the most important fundamental of SEO best practices. Why? Simply put, visitors to your site want to find what they came for. This is simple and obvious enough, but most sites are very infrequently updated, so their content is often stale or no longer representative of the current reality of the business or organization it is representing.
One very important visitor that your content needs to impress is the search engine. Search engines crawl (spider, scan, etc.) the text on your site to determine if your content is relevant for their users. If your content is not relevant to what they are looking for, your site will fall in the search rankings and you'll get less traffic.
Check back frequently as we continue our six-part series on SEO Best Practices.
For more information about The Launch Pad's award winning Web Hosting and Web Development Services, contact Megan Meisner at mmeisner@launchpadonline.com or (813) 920-0788 x210.