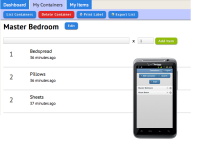 In our newest blog series, we are discussing the 3rd wave of the cloud conversation – how to manage mission critical business applications in the cloud to increase productivity and realize a greater reduction in the cost of running your business.  In first five installments of the series, we covered Geckoboard, AwayFind, inDinero, Highrise and finally WorkFlowy.  In this edition of the series, we will discuss a web based inventory management application that offers an innovative and effective way to improve organization.
For any small business enforcing consistent follow through for even the most basic of inventory management organizational protocols can be a challenge. Boxmeup is a deceivingly simple app that lets you create a virtual box and create a list of the boxes' contents. Then you print out a QR code and stick it on the physical container.  To track the contents of the container, users can scan the QR code with a Smartphone and see the current inventory or update the contents on the fly if they are adding or removing an item.  Container contents can also be updated through the web interface. Box lists can be easily cross-searched to find an item. Boxes can be organized by location so that users can easily find the phsical location of inventory items.
While Boxmeup's API only offers limited integration with existing software programs, this free application is a useful and frankly really cool tool for organizing, tracking and managing your company's assets and inventory.
Learn how your business can benefit from cloud services and hosted applications with our free RevITup SilverCloud Assessment.  For more information on solutions for running your businesses' technology more efficiently, visit our website or contact Megan Meisner at mmeisner@launchpadonline.com or 813 920 0788 x210.