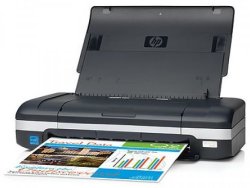 As great as mobile devices are and as close as tablets are becoming at conquering size and usability on the road, sometimes you just need to print it out.  So, what do you do when you are away from the office and you desperately need to print something from your laptop, tablet or Smartphone?  The answer is simple! Pull out the new HP Officejet H470 Mobile Printer. Weighting in at under five pounds, the H470b is designed for portability – you can easily carry this printer wherever you go.
The H470b comes standard with a USB connection, but users have the option of purchasing separate dongles to enable Bluetooth and Wi-Fi for printing through mobile devices. And don't worry about this printer holding a charge. It comes with a rechargeable Lithium-Ion battery that packs enough power to print 480 pages or print continuously for up to two hours.
The output quality is quite impressive for a mobile printer. While this may not be the perfect solution for photos or higher end printing needs, the H470b prints standard documents clear and readable. Color printing was somewhat overstated but this is probably explained by the use of a two-ink system. The sleek device prints up to 22 pages per minutes in black and white and 18 pages per minutes in color. Its monthly duty cycle is 500 pages and it has a 50 page input capacity. Priced at $299, the H470b is one of HP's most efficient printers, costing $0.20 per page.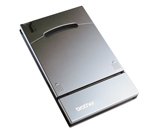 We thought a printer weighting only 5 pounds was impressive – but were blown away to find out that the MPrint MW-120 from Brother weights a mere 11 ounces. The MW-120 features three different connectivity options to meet many mobile needs: a technologically advanced InfraRed (IrDA) interface for wireless communication with PDA's and Smartphones, a USB interface for printing from tablet PCs or notebooks, and a serial interface for connecting directly to handheld terminals, medical instruments, test equipment, and other stand-alone devices. The MW-120 utilizes Bluetooth technology with a range of up to 30 feet.
 While it does not print regular 8.5 x 11 sheets of paper, it does produce quality output on coated sheets of thin, A7 paper. The actual size of the paper is 4.1 x 2.9-inch but Brother also sells labels in three sizes to enhance the printer's functionality.
For such a small printer – it sure can pack the power. The printer is able to print up to 100 pages continuously on its fully charged Lithium-Ion battery at speeds up to 15 seconds per page. Once set up, printing is very straightforward. Brother supplies a Windows app called SnapSpot that has a small page editor – where users can add simple graphics and text, background textures and imported photo elements.
A portable printer is an excellent accessory for the mobile workforce. It's now possible to print invoices proposals even labels or service documents on the go!
Let us know what tool your mobile team can't live without! Leave us a comment!
For more information on the HP Officejet H470 Mobile Printer, shop our online store or contact Megan Meisner at mmeisner@launchpadonline.com or 813 920 0788 x210.