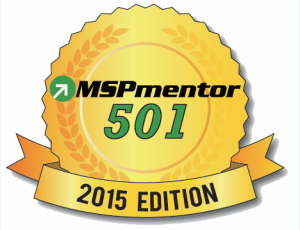 Penton Technology Names The Launch Pad to the MSPmentor 501 Global Edition 8th Annual Report Identifies World's Top 501 Managed Service Providers (MSPs)
OLDSMAR, FL (PRWEB) April 23, 2015 – The Launch Pad is proud to announce its place again this year on Penton Technology"s eighth-annual MSPmentor 501 Global Edition, a distinguished list and report identifying the world's top 501 managed service providers (MSPs). The complete 501 list is currently available on the MSPmentor.  This year The Launch Pad has moved up to #158!
"We want to congratulate The Launch Pad and look forward to covering their growth strategies in the year ahead," said Marcia Parker, Executive Director, Penton Technology Group.
"2014 was a year of evolution for Managed IT Service providers and re-strategizing the MSP delivery model." said The Launch Pad CEO, Ilene Rosoff.  "It is very exciting to witness Cloud services, mobile devices and other "deskless" technologies explode in the SMB realm and to be a key facilitator in bringing the best that technology to our clients.  I am proud of our team and invigorated by the success of other Managed IT Service companies like The Launch Pad who are chaperoning this technology to their small business clients".
Each year, MSPmentor gathers information for its annual rankings through the participation of managed service providers and IT service providers in our annual survey. The survey was conducted from December 2014 through January 2015. Rankings are based Penton Technologys unique criteria for MSPs such as annual recurring revenues, total revenues and more.
This year the top MSPmentor 501 companies recorded higher recurring revenues than ever before. Combined, the total annual recurring revenues for all of MSPmentor 501 2015 companies reached a record high of $3.95 billion in 2014, up 26.5% year over year.
About The Launch Pad
The Launch Pad assists small and mid-sized organizations in Florida and across the country to use and manage technology more effectively in their business. The Launch Pad's RevITup™ Business Care Series offers a suite of managed technology and data protection services which include IT management, professional services, hosted and Cloud solutions backed by an award-winning 24x7x365 support team.  Our Client Solutions Team delivers expert technology support and service nationwide from our beautiful new service center in Oldsmar, Florida.
In 2011, The Launch Pad continued its expansion by introducing the first national managed IT services franchise. The franchise offers technology focused entrepreneurs a complete "•Business-in-a-Box™ model offering managed technology services for high-demand professionals such as law firms, CPAs, engineers and healthcare providers. For more information, visit www.launchpadonline.com.