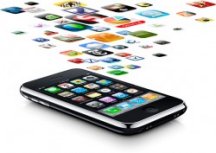 Mobile devices and smart phones are redefining the concept of business intelligence. Today mobile applications are a dime a dozen. It's fair to say that there is probably an app for just about everything, yet sometimes it's hard to find innovative and useful apps to grow or manage your business.
Entrepreneur.com turns the spotlight on 25 of the most revolutionary and vital applications on the market. This guide will help break though some of the mobile app noise and promises to make your life as an entrepreneur a whole lot easier!
After reviewing the list, we have chosen five apps that are a must for the busy entrepreneur:
Quickoffice Connect Mobile Suite
Why you need it: A full-featured Microsoft Office productivity suite complete with access to multiple cloud services, Quickoffice Connect Mobile Suite enables users to create, open, edit and share documents and spreadsheets on the go.
Features: Two-finger zoom, fast scrolling, Wi-Fi-enabled file transfer
Price: Varies according to device platform, around $10
Available for: iPhone, Android
Intuit GoPayment
Why you need it: This app allows GoPayment account users to accept and process transactions for all major credit cards via a smartphone. Payments are authorized in seconds, and funds are deposited directly into a designated bank account.
Features: Payment information encryption, data sync with QuickBooks, no daily or weekly transaction limits
Price: Free (Monthly service charge: $12.95, and 30 cents per-authorization fee)
Available for: iPhone, Android, BlackBerry, Symbian, Palm webOS
InerTrak
Why you need it: InerTrak is a task-management tool designed for entrepreneurs juggling projects and assignments. The app documents how each workday is spent, calculating hourly billing according to different clients and rates.
Features: Detailed project views, desktop integration (purchased separately), notes and comments
Price: $4.99
Available for: iPhone
WorldMate
Why you need it: A personal assistant for business travelers, WorldMate manages your complete itinerary — flights, hotels, car rentals and meetings — and automatically synchronizes the details with your mobile device.
Features: LinkedIn integration, world clock, currency converter, tip calculator
Price: Free
Available for: iPhone, Android, BlackBerry, Windows Mobile, Symbian
JuiceDefender
Why you need it: The only problem with all of these cool apps is their effect on your smartphone's battery life. The answer: JuiceDefender, which disables mobile connectivity and other energy-sucking components until you need them.
Features: Homescreen widgets, default Easy Mode
Price: Free
Available for: Android
For a look at the full list of mobile apps for managing your business visit Entrepreneur.com.
Visit our Technology Resource Library for more information and to find webinars and whitepapers on mobile and cloud solutions for your business or contact Megan Meisner at mmeisner@launchpadonline.com or 813- 920-0788 x210.