The Launch Pad's RevITup TechEd­™ Lunch & Learn Webinar Series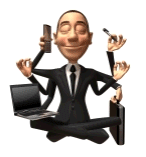 Date: Thursday, December 9th 2010. Miss our webinar? You are welcome to download the archieved recording and presention materials.
Is your company facing constant pressure to do more with less?  Have you lost your harmony with the dizzying array of technology choices?  Is your technology knowledge out of balance with the demands of your business? 
The Launch Pad's CEO, Ilene Rosoff  show you the path to becoming one with your businesses technology and achieving peace of mind in the New Year.
During this  webinar you will:

Identify the top ten biggest technology myths that lead to imbalance and cost small and medium-sized businesses  thousands of dollars.

 Learn how to evaluate if your IT solutions are truly at one with business needs

Discover the path of least resistance to mobile technology to dramatically increase productivity and better response to opportunities and customer demands.

Find out three Zen Technology Management strategies that you can implement immediately – for free
All Webinar registrants will receive our latest whitepaper, "Back in Control, an Executive's Guide to Managing Business-Critical Technology" providing a 10 point reality check list for evaluating your businesses mission-critical technology. 
For more information contact Megan Meisner, mmeisner@launchpadonline.com or 813-920-0788 x210