Have you ever had a great idea for a website name and wondered how you could find out if the domain name was available? Have you wanted to make changes to your website but but didn't know where your site was hosted?  Whois is a great resource for you.  Whois.net is a free domain-based research service that will help you find out if a domain is available, who registered a domain, the IP address of the host, DNS information and much more.
Some websites will have private registration requested by the individual who registered the domain name. To research this information there are several websites that are available. The Launch Pad finds that www.networksolutions.comhas the most effective WhoIS search.  Below you will find a preview of what is displayed from a WhoIS search. 
Those entities that offer domain registration are known as registrars and must comply with ICAAN guidelines for domain registration.   When registering a domain, you should make sure that you are the registrant.  Admin, billing and technical contacts can be designated separately.  Keep in mind that the Admin contact is the contact that will receive correspondence for domain name changes and updates.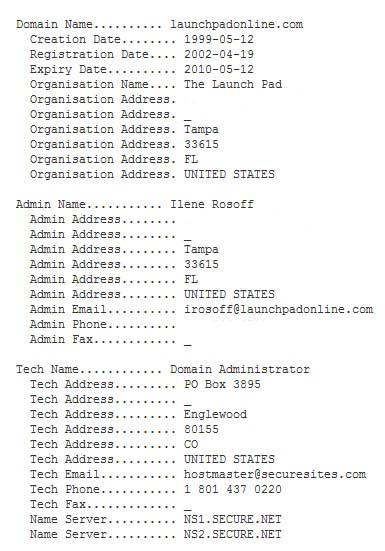 Domain name general information:
Creation Date, Registration Date and Expiry Date.
Important dates in a domain record.
Private Registration:
All domain name owners must include contact information in their domain name record; however, you don't have to make this information public. Private Domain Registration allows you to conceal your personal information from unwanted solicitors by listing contact information for your domain name registration partner, The Launch Pad, in place of your own registrant, administrative, technical, and billing contact information in the public WHOIS database. Your own contact information will remain associated with your domain in The Launch Pad's database but will not be made available in the public WHOIS.

Administrative Information:
The licensee's contact information (company name, address, phone number and email address.) The administrative contact is the person who can speak on behalf of the organization listed. This person should be able to answer non-technical questions about the organization's plans for the name, and procedures for establishing sub-domains, and should be able to represent the organization regarding use of the name.
Technical Information:
The person who tends to the technical aspects of maintaining the domain's name server, resolver software, and database files. This person keeps the name server running, and interacts with technical people in other domains to solve problems that affect the domain. The Internet Service Provider often performs this role.
Name Server:
Holds information relating the naming scheme to the IP Addresses for a web site. When you register a domain name, a Name Server configures a "zone" for that domain that relates it to an IP address. This is called an "A Record." An "MX Record" is another example of a zone on a Name Server used to identify the mail server. So when someone sends you an email, for example, their mail server will request the Name Server for you domain and obtain its IP Address before it can send the mail to the mail server.
Domain Registration vs. Domain Hosting:
With Domain Registration you are registering the rights to use that specific domain name. @example.com is now registered and can not be used by anyone else as long as the registration is current.
Domain Hosting is a type of Internet hosting service that allows individuals and organizations to make their own website accessible via the Internet. Web hosts are companies that provide space on a server they own or lease for use by their clients as well as providing Internet connectivity, typically in a data center.

If you are having trouble finding information for your website,  issues getting information and service from your current registrar, or would like to register a domain name for your home or business, please take a look at our hosting options and contact The Launch Pad at 813-920-0788.  The Launch Pad is a registrar and domains can be registered directly through our website.
Randy Todd
Client Solutions Manager