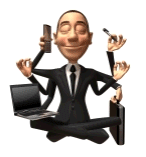 When it comes to evaluating IT investments, you could look at invoices but that only tells you how much money you've spent. It doesn't reveal if the investment is delivering value to your business. You can examine IT expenditures from one year to the next, but that only reveals if spending has increased or decreased, it doesn't tell you where you can scale back or where you need to invest more. 
 
Get your TechZen on for the New Year with our latest kit "The 2011 ZenTech Executive Management Kit." Your kit will include:
? Our latest webinar "Zen & the Art of Technology Management for The New Year" webinar
? Our latest  whitepaper, "Back in Control, an Executive's Guide to Managing Business-Critical Technology"
? Our Easy-to-GreenIT webinar "Simple Green Technology Strategies for Small Business"
? Free ZenTechnology Audit to evaluate if your IT solutions are effectively supporting your business needs.
If you have any questions please feel free to contact Megan Meisner, mmeisner@launchpadonline.com or 813-920-0788 x210.


Stay Tuned:  Coming soon – Part 9 | Do you have a data storage plan in place to satisfy search, retrieval and compliance requirements?