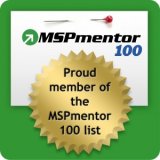 ODESSA, FL (PRWEB) February 17, 2011 – The Launch Pad has been ranked number 93 on the fourth annual MSPmentor 100 list, a comprehensive research report identifying the world's 100 most progressive managed service providers (MSPs). The MSPmentor 100 is an annual survey conducted by MSPmentor and its owner, Nine Lives Media Inc.
The MSPmentor 100 is calculated using a range of metrics including overall managed services revenue, overall managed services revenue growth, percentage managed services revenue growth, managed services revenue per employee, number of devices managed, and other data points comparing fiscal 2010 to fiscal 2009. The report also highlights key business and technology trends among the world's most successful managed service providers.
"Nine Lives Media Inc. and MSPmentor congratulate The Launch Pad for earning this distinguished honor," said Amy Katz, CEO of Nine Lives Media Inc. "The annual MSPmentor 100 survey attracts participants from across the globe. Qualifying for the final MSPmentor 100 list is a great accomplishment."
"We continue to see accelerating momentum for the world's top MSPs," added Joe Panettieri, editorial director of MSPmentor. "The top 100 MSPs generated more than $1 billion in recurring revenues for 2010, up 27 percent from 2009. That's remarkable growth considering the challenging global economic landscape in 2010."
"It's a thrill to be on the list and in the company of this elite group of managed service providers." said The Launch Pad CEO Ilene Rosoff. "Innovation, managed growth and forward momentum are values we hold dear at The Launch Pad. To be recognized by MSPmentor is a huge honor."
Founded in 1992, The Launch Pad provides a suite of IT management and IT support services nationwide. Nonprofit organizations, professional service firms and small manufacturing companies are among those businesses benefiting for the RevITup™ suite of hosted applications, data backup and recovery, green technologies and turnkey virtualization solutions. With this latest designation The Launch Pad finds itself with a growing trophy case of awards. In 2010, for the 2nd straight year, the company was lauded by Inc. 5000 and Tampa Fast 50 of fastest growing companies.
The fourth annual MSPmentor 100 survey results were revealed Wednesday, February 16th, 2011 during a live webcast. Complete results were published and can be reviewed on the MSPmentor website.
About Nine Lives Media Inc.
Nine Lives Media Inc. defines emerging IT media markets and disrupts established IT media markets. Founded in 2008, Nine Lives Media Inc. has generated profitable, debt-free growth since its inception. The company's market leading blogs and online destinations include MSPmentor (www.MSPmentor.net), The VAR Guy (www.TheVARguy.com), Talkin' Cloud (www.TalkinCloud.com), VARtweet (www.VARtweet.com) and MSPtweet (www.MSPtweet.com). For more information, visit www.NineLivesMediaInc.com.