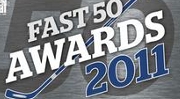 For the third consecutive year, The Launch Pad was announced by the Tampa Bay Business Journal as one of the Tampa Bay area's 50 fastest-growing, privately held companies.  Based on percent of revenue growth from 2008 to 2010, The Launch Pad was honored as the 14th fastest growing company in the Tampa Bay Area.
Having the company recognized as leaders in the community is not something that the leadership team takes lightly.  "We have worked hard at building a strong and dependable company that their clients can count on for all their technology needs. Our growth is a direct result of that commitment and a testament to the efforts of our very talented and dedicated team,"  notes Launch Pad Founder and CEO, Ilene Rosoff.
The Launch Pad believes our success lies is our ability to focus on developing personal relationships with our clients, learning about their business needs and how best to apply technology to solve problems, create new solutions, and increase their bottom line.  Our goal it to be a one-stop-shop offering comprehensive services, best practice consultation, and a team dedicated to becoming a key partner in our clients technology planning.
The Tampa business community recognized The Launch Pad and the other "˜Fast 50′ honorees at a luncheon July 21st at the A La Carte Event Pavilion, when the ranking of the top 50 was unveiled.