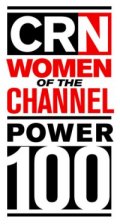 The Launch Pad founder and CEO, Ilene Rosoff has been recognized as a Power 100 Women of the Channel by CRN Magazine.  The "Who's Who" list recognizes female executives for their accomplishments over the past year, based on their achievements as executives and the amount of influence they wield over the technology channel.  This year's Women of the Channel were chosen by the editors of CRN Magazine from a field of vendor channel organizations, distributors and solution providers.
In addition to being acknowledged as a Power 100 Women of the Channel, Ilene has been recognized for her outstanding leadership as CEO of one of the leading small business IT services companies in the country by MSPmentor 250 and was named as a finalist for the highly coveted Tampa Bay Business Woman of the Year for two consecutive years.  Ilene's dedication and achievements have been pivotal in the success of The Launch Pad which was named to the Inc. 5000 for the second year, and was identified by The Tampa Bay Business Journal as one of the Tampa Area's 50 fastest growing businesses in 2009, 2010 and 2011. 
 
"I feel incredibly fortunate and greatly honored to be part of a community of vibrant women who are fierce and focused, complex and brilliant and who have devoted themselves to the pursuit of building good business, good organizations and good community though technology," says Rosoff.
"This year's Power 100 Women of the Channel list honors the most successful and influential women in the IT channel – a traditionally male-centric industry.  The Power 100 list is an elite subset of our annual Women of the Channel list, which recognizes the 100 most influential women of the channel based on their overall achievements, and their influence in the technology industry," said Kelley Damore, VP, Editorial Director, Everything Channel. 
The Power 100 Women of the Channel will be listed on CRN.com.  The overall Women of the Channel list will appear in the July 2011 issue of CRN Magazine.