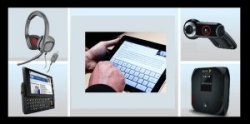 The Post PC world has arrived. What do executives need to conquer in the post-pc revolution?  Here are the top 5 picks from The Launch Pad:
The Tablet – iPad leads the pack
Leading the way for post PC devices and leading the mobile revolution are the tablets, namely the Apple iPad.  Tablets are entering the workplace in three ways: as replacements for traditional tools like laptops, as replacements for paper and in new business scenarios where bulky computers aren't convenient.  Research company, Forrester, finds companies using iPads in unexpected ways: Lloyd's of London, for example is testing iPads with brokers so that they can write business from the field. There's also a Connecticut hospital that's trying to work iPads into the routines of clinicians to make patient records, drug conflict data and health information more accessible.  Japanese business solutions vendor Gotanda Denshi has been testing iPads with Japanese retailers, with preliminary results pointing to higher sales and order sizes.  Forrester is predicting 13 million tablets will have been sold by the end of 2010 and 59 million will have been sold by the end of 2015.
SmartPhones
The massive library of apps for Apple's iPhone 3GS makes it a good choice. But, with a growing app library and a choice of cell-phone networks, Google's Android operating system is catching up fast. Windows has just hit the market with its newest OS and BlackBerry continues to innovate and add to its app pool.
Mobile Broadband
General plans exist in the $60 per month range per card/number. Businesses may want to check out Sprint's Overdrive ($100 after rebate with two-year contract) allows up to five of your employees to get online at the same time and gives you access to faster WiMAX networks.
Skype/IP Headset
A Skype headset will give you better sound quality than a landline phone, not to mention the use of both hands. The Launch Pad staff pick is the Plantronics Audio 655 USB Multimedia Headset (About $35).
Webcam
Your built-in laptop or tablet camera will work fine for casual use.  But if you plan on marathon video chat sessions, invest in a better unit.  We like the Logitech Pro 9000 ($79.99), which delivers clear sound and a crisp picture, even in dim light.
For more information about mobile solutions for your business, contact Megan Meisner at mmeisner@launchpadonline.com or 813 920 0788 x210.