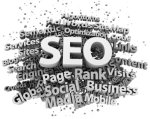 There are all sorts of tried-and-true SEO tactics that can be used to ensure your site is successfully crawled, indexed, and positioned in the major search engines. Though SEO tactics evolve with the technologies used to render Web sites, certain fundamentals remain constant.
 
While there are many different options out there to drive more traffic to your website, the first and most important thing you should do is to make sure that your website is built with the fundamental components for success.
Part 6: Clear "Conversion" Path/Instructions
Presumably you are looking for visitors to your site to do something: purchase a product, sign up for a newsletter, ask to be contacted by a salesperson, etc. These actions are commonly referred to as "conversions".
Following the same logic of having a clear purpose for each page, you should also have a clear conversion strategy for your site, and make it as clear and easy as possible for your visitors to take the conversion action you are looking for. This is a study in and of itself, but there are a few fundamentals worth mentioning:
?  Ideally only have one conversion goal for your site. If you must have more than one, make sure each has a separate, clear path for the visitor to follow.
?  Give your visitors the option to convert everywhere it makes sense to do so, not just on a single page in the site. For example, if you are looking for visitors to register for a newsletter, include a "Sign up now" link on every page.
? Make it as easy as possible to take the desired action: remove all unnecessary steps, ask only for critical information, and give clear instructions.
Good professional sports coaches make their athletes – often already the best in the world at what they do – practice the fundamentals of their sport daily because they know it will make everything else they do better. The same can be said for the fundamental website components above: make sure you are practicing them, and all of your other marketing activities will perform better.
For more information about The Launch Pad's award winning Web Hosting and Web Development Services, contact Megan Meisner at mmeisner@launchpadonline.com or (813) 920-0788 x210.