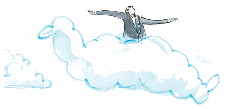 Cloud speak is everywhere but what does all this really mean in practical application for your business and technology planning? In order to help determine which Cloud options will innovate your business processes, we will be outlining the Cloud's 7 key areas of business focus. This RevITup™ TechEd Blog Series will break down each component and wrap up with a 4-Step Action Plan for getting you started.
RevITup™ TechEd Action Plan: Simplifying Technology | Innovate Your Business & Maximize your Investment in 30 Days

Step 1: Start Small: You don't need a 5-year roadmap to get started in Cloud computing.  Next time you are sending someone a file, take a look at dropbox.com.  Sign up for their free account and send the file that way. It's simple!
Step 2: Think Big: Once you have bought in to the Cloud, chart out a path to move the core parts of the business to a cloud-based solution.  Map the benefits and plan the project. Try a project management tool like Liquid Planner, a project planning solution on steroids with simplicity and elegance.

Step 3: Pick an Anchor App: Find an application that will be a core around which you can build your technology tools. This might be CRM or a Professional Services Solution. We like SugarCRM, a CRM software tool for sales force automation and customer support deployed on demand accessible 24/7 from any location.
Step 5: Ask for Help: The Cloud Ecosystem can be a complex place.  Identify a technology partner to help guide your path and create a roadmap for you.  The Cloud has much to offer small and mid-sized business.  Make sure you have a great tour guide
To learn more about the Cloud download Part 3 of our RevITup TechEd™ Cloud series webinars,"Riding the Cloud: 10 Ways to Harness Cloud Power for your Business."
For more information, please contact Megan Meisner at mmeisner@launchpadonline.com or 813 920 0788 x210.