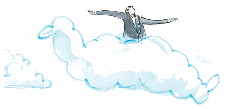 Cloud speak is everywhere but what does all this really mean in practical application for your business and technology planning? In order to help determine which Cloud options will innovate your business processes, we will be outlining the Cloud's 7 key areas of business focus. This RevITup™ TechEd Blog Series will break down each component and wrap up with a 4-Step Action Plan for getting you started.
Part 7: Focus on Community and Social
The Cloud Tools Can be Managed to Leverage Social Networks: Cloud infrastructure also allows us to engage potential customers, partners, and employees in the broader community through social networks like Facebook, LinkedIn, and Twitter.
 
 To learn more about the Cloud download Part 3 of our RevITup TechEd™ Cloud series webinars,"Riding the Cloud: 10 Ways to Harness Cloud Power for your Business"
For more information, please contact Megan Meisner at mmeisner@launchpadonline.com or 813 920 0788 x210.
Stay Tuned:  For the RevITup™ TechEd Action Plan: Simplifying Technology | Innovate Your Business
& Maximize your Investment in 30 Days.