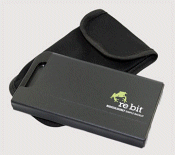 Why Rebit?
One of the biggest problems we see in small businesses is that user desktop and notebook data is not backed up.  While the goal is always to centralize data on the server.  Sometimes this can be difficult in non-standardized environments or organizations where users travel frequently.  Also, the amount of time that would be spent reinstalling applications on a user's desktop or notebook and getting everything back the way it was in the event of a crash can be daunting and very time consuming.
Enter the Rebit.  The Rebit disk drive backup plugs into one of your computer's USB ports. Simply plug it in and click "ok" to allow it to run on your PC. That's it. After that, it transparently keeps you backed up throughout the day, everyday. Forever.
Rebit backs up everything on your computer, from pictures to e-mails, even your applications, settings and operating system, without your intervention. You don't do anything. There are no schedules to set, no backup media to set up. Plug it in, and it's always there for you. Moments after a file is created or deleted, Rebit will back it up. Rebit even backs up versions of files so that you can recover an old file version that you saved a new version over. And if you unplug Rebit, it will automatically catch up from where it left off once you plug it back in again.  Restores are just as easy.  In the event of a hard drive crash, just plug the unit in, insert the restore disk and Rebit does the rest.
You can purchase directly from The Launch Pad at 813-920-0788 x 202 or e-mail sales@launchpadonline.com
Portable Backup 160 Gb – $145
Portable Backup 320 Gb – $170
Portable Backup 500 Gb – $185