Free Your Technology … The Cloud Is Calling
Presented by The Launch Pad  | TechEd™ Interactive Breakfast Webinar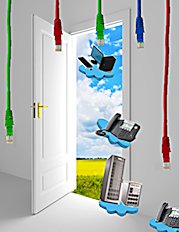 Miss our webinar?  You are welcome to download the archived recording and presentation materials.
Are you still warehousing pricey computer equipment?  Would you like to say goodbye to the server room? The time has come to free your technology. Let us show you how.
The Launch Pad's CEO Ilene Rosoff leads a riveting discussion about how you can liberate your technology from the server room, free your applications from the desktops, free your workforce to collaborate from anywhere and unchain your IT budget for real business growth. 
Here's a quick preview
Imagine life without desktop, server and phone hardware bogging down your budget. Liberate your technology and free your business to grow.
Innovate your technology; discover the secret to streamlining your business processes and untethering your technology in minutes, not months.
Discover hands free, cloud-based data protection that guarantees a soft-landing and keeps your business running.
Mobilize your Team; collaborate online, run apps with only a web browser; green your technology and see how your business can run in the cloud.
 The fun doesn't end with the event.  All registrants can sign up with our expert tech audit team and learn how your business can benefit from virtualization technologies, cloud services and hosted applications.  Best of all, for Independence Day, It's FREE.

The Launch Pad Silver Cloud Assessment
For more information contact Megan Meisner at 813 920 0788 x210 or mmeisner@launchpadonline.com.