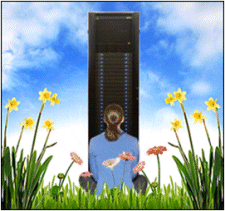 In light of the Holiday Season and "giving" spirit this time of year, many businesses look for ways to give back to the community and/or those who are less-fortunate. At The Launch Pad, we too strive to give back and have a great way to do just that – while also encouraging other businesses to follow suit – with our GreenBackTM Community Outreach Program for Nonprofit Organizations.

Through Our Easy-to-GreenIT  program's GreenBack service, we can take PCs and other hardware that no longer have a use in your organization and recycle them back to nonprofit organizations throughout the Tampa Bay area. If your company makes a donation, you can opt to designate your equipment to be recycled to the local nonprofit of your choice or the next in need on our list.  We then announce it through our website and marketing channels, which in-turn gives your business recognition for the good deed.  In addition to it being a win-win for your business and the nonprofit recipient, it helps protect the environment!
See how a recent GreenBack recipient used their donation to help "at risk" youth receive computer certifications and a college credit here.
Does your business have gently used, decommissioned computer equipment that is collecting dust in a closet somewhere? Visit our website and fill out our "Business Wishing to Donate" form and list any available equipment you have here.  Nonprofit organizations can submit their wish list through the same link.
Interested in learning more about our Green IT Initiative and how it can not only help save the environment. but also save your business money? Let me know and I will arrange a FREE  Easy-to-GreenITTM Technology

Assessment and Score Card!
More info on GreenIT: RevITup Easy-to-GreenIT Initiative from The Launch Pad
Related Blog Post: The Road to Greening Your Business
Related Webinar: "Simple Green Technologies for Your Business"