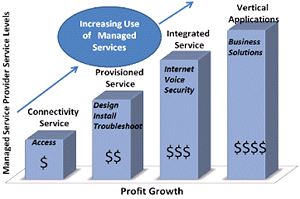 How do you know if you are spending too much or too little on your technology.  Benchmarking IT costs in terms of others in your industry can help you find the right level of spending on information technology.  While you know how much your company spends on its technology, how do you know if you have the right balance to avoid getting left in the dust by competition without negatively impacting your profitability.
Since the competition may not be easily forthcoming on their budgets,  looking at benchmarking data may be the next best thing.  Luckily, one well-known research company, Gartner, Inc., offers just such a benchmarking study.   The study examines average annual IT spending in dollars-per-employee, by percentage of revenue and by expected growth in 27 different industry sectors.   So, if you own a financial services firm, you may not be able to find out what the other firms in your town are spending on technology.  However, if you know the number of employees, you'll be able to get an industry average on what they are spending.  If you are the principal in a financial services firm, you may be surprised to know that compared to the travel industry which spends less than $2,000 a year per employee, your industry averages more than $20,000 per employee.   One  statistic that will probably be of interest to small and mid-sized businesses is that you will spend more per employee if your company is small.   Another is that smaller organizations that employ a managed IT services model of outsourcing bring more profitibility to the bottom line.This is only a starting point.  You should also look closely at your competitors.  See who is taking your business away.  There are usually only a handful of them, even for a small company.  A good way to gather more benchmarking data on your competitors is by networking among peers, and asking carefully chosen questions when interviewing their former or current employees.  Though you probably won't find out what they're actually spending, you might learn how their costs are structured, if they are outsourcing or what their internal IT staff looks like.  Another way is to engage a local IT services company who can provide you with a technology analysis and benchmarking metrics based on their experience in your industry.
*If you are interested in securing a Technology Analysis for your organization, contact our Client Solutions Team at 888-920-3450 or sign up on line for your complimentary technology analysis.