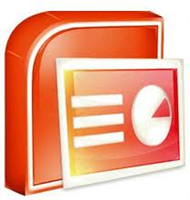 Here's a familiar scenario: You've been asked to prepare a presentation that is informative, engaging, and will energize the meeting participants.  You know your subject matter is great but how can you quickly and easily create a PowerPoint presentation that will do the material justice and won't lose your audience as they daydream about lunch?  In this 2-part blog series, we will cover some tips, tricks and PowerPoint add-ins that are guaranteed to amp up your next PowerPoint slide deck.
PowerPoint 2010 has a number of cool new features.  Two of The Launch Pad's favorites are Office Timeline 2010 and Broadcast Slide Show.  Office Timeline 2010 allows you to create dynamic schedules and timelines for project planning and management purposes.  This free download is really simple to use with a great tutorial slide show and a series of sample timelines that will help you understand how to best use the tool.  The templates are colorful, splashy, easy to manipulate and are a visually engaging way to present your project schedule to your audience.
Do you ever find yourself on the phone with someone and wish you could easily send them a PowerPoint deck to help make your point? Just sending a large PowerPoint file with no representation isn't always a good option and kicking up an online meeting and sharing your slides can be cumbersome and time consuming.  With Broadcast Slide Show and just a few clicks, you can simply send a link to your presentation via IM or email so the recipient can watch a live, synchronized view of your slides on their PC or smart phone.  Broadcast attendees don't need to have PowerPoint installed; all they need is a browser.
While these new standard features are helpful, there are a number of really interesting add-ins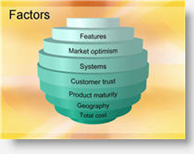 that you can  download to help you create more robust slide decks.  Snappy 3D objects are a great way to spice up your presentation.  Perspector allows you to insert an image or list from its library, create a new 3D image or convert an existing image or shape into a 3D image.  With Perspector your ordinary bullet pointed slide can become a 3D ball of text.  Perspector is used directly from inside PowerPoint and images and charts are added to your slides just like any other image.  The add-in comes in several editions ranging in price from $59 – $299.
To interject a little more life into your presentations and to encourage interactive participation, consider the aptly named YawnBuster.  Once you have it installed, you can access a menu of options from the add-ins tab, insert a flash-based activity such as polls, brainstorming features, and quizzes, and tweak them to suit your needs.  YawnBuster has a trial version based on their popular Essential Pack.  The fuller versions are available in four individual packs for approximately $99 each or you can get all of the packs bundled for $299.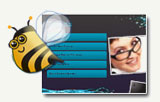 For those who are creatively challenged, consider VisualBee.  This free plug-in is designed to enhance your existing presentations.  You begin by selecting a template design that best suits your content, apply it to the slide deck and it analyses your presentation text and structure and tries to improve it.  It adds graphics, images, animations and transitions to enhance your content.  You can edit or customize any of the enhancements if they aren't exactly what you were looking for .  The free version has some limitations, such as allowing a maximum of only 10 slides per presentation and the addition of their logo on the slides.  The paid plans range from $39.00 – $79.00 per year, allowing unlimited slides and the incorporation of your company's image library.
Check back for Part II of our PowerPoint enhancements series where we will discuss time saving tips and shortcuts for creating engaging presentations on the fly.