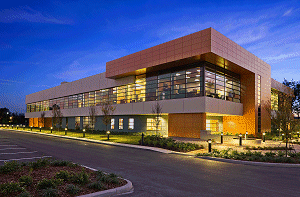 The Launch Pad is excited to announce our move to our beautiful new state of the art 35,000 facility located at 1115 Gunn Highway which it will share with owner ISPC.  Although only about a mile from our existing headquarters, the move marks the company's 3rd expansion in the last 5 years.
"We are extremely excited about this new facility and what it will mean for our clients, community and staff," says CEO Ilene Rosoff.  "The new building greatly enhances not only our existing managed technology services and expands our network operations center  but provides  for the growth of our newly launched managed IT franchise offering.  It will also serve to reiterate our commitment to the people and businesses of West Central Florida and support of our Pasco county home."
Finishing touches on our build-out will be completed by April 1st and the team will be occupying the beautiful new space by April 5th!  Stay tuned for details, pictures and the announcement of plans for a open house for our clients, partners, friends and family.