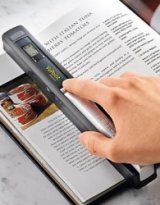 We think Magic Wand is the perfect name for VuPoint Solutions Portable Digital Scanner. Weighing less than a pound, the wand is able to scan color or monochromatic documents, articles, receipts, business cards or anything that might need to leave paper and become digital on the fly.  Scanning with the wand really couldn't be easier; simply power it on and run it over the image or text that you want to capture. That's it!
The Magic Wand is able to scan images in either high resolution or low resolution depending on the quality output the document requires. Scan times vary taking approximately 13 seconds for high resolution color documents to 2 seconds for low resolution, black and white scans. All scanned images are preliminary converted into JPEGs and are stored on a MicroSD memory card (sold separately). 
Costing only $99.00, the device comes with OCR software which is used to convert scanned images of handwritten, typed or printed text into machine encoded text that is able to be edited, searched and stored in a more efficient way.
We find many uses for the Magic Wand at The Launch Pad. Our sales team takes it with them on business meetings in case they need to scan agreements or client documents that need to stay onsite. Also, the product is eco-friendly and has helped us reduce paper copies. To reduce waste, we have started scanning important magazine or newspaper clippings we want to share with others on our team. We can now simply scan them and are able to email multiple people without using a single sheet of paper.
What uses could your business come up with for the Magic Wand? Leave us a comment!  
 For more information about mobile solutions for your business, contact Megan Meisner at mmeisner@launchpadonline.com or 813 920 0788 x210.