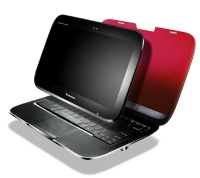 Lenovo's IdeaPad U1 is a clever combination of multi-touch tablet and laptop.  The device is notebook computer with a detachable screen that has it's own processor and can be used as a multi-touch slate tablet.   When closed it looks like a regular laptop, with rounded edges and a snazzy red cover. 
When both halves of the U1 are together, it runs on Windows 7 on an Intel Core 2 Duo SU processor, but when you split them up, the tablet will use a custom version of Linux and a Qualcomm ARM Snapdragon processor.  This means that you get the best combination of power and battery life for each scenario.   Weighing just 3.8 pounds total, each mode supports more that 5 hours of Web browsing and 60 hours of standby. 
Lenovo will start selling the hybrid in June and until then we will be left wondering if it really the best of both worlds wrapped in a pretty package.