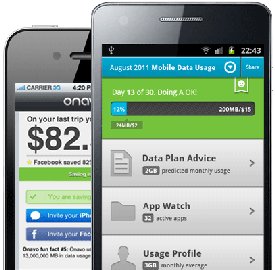 If you are like most of us, you missed out on the unlimited, all-you-can-eat wireless plans for your smartphone and have a metered or even capped wireless data plan. This can be extremely frustrating as many of the coolest mobile apps can be data hogs draining your wireless plan long before the end of the month. But what if you could install an app on your phone that extended the value of your existing plan automatically, giving you lots of extra data at no additional cost?
Onavo compresses your mobile data to dramatically increase the value of your existing data plan. The app is free (it may move to a pay model in the future) and is very simple to set up to get started. When you are using your phone's data service plan, Onavo kicks in and compresses incoming data including email, photos, and video by as much as 80 percent. When you are using Wi-Fi, the app will automatically go offline. Onavo provides reports showing your data usage, estimated cost savings, and even tracks how you are spending your time online, showing your usage of services such as YouTube, iTunes, Web surfing, and others.  There are a few initial downsides to using the app, including slightly pixilated graphics and emails showing in plain text format but you can mitigate both as every message includes a button to download the full, original version.
Onavo is a clever, must-have app that that will effortlessly extend the value of your existing data plan.
To learn more about mobile solutions for your business, visit our website or contact Megan Meisner at mmeisner@launchapdonline.com or 813-920-0788 x210.